Join our 
Family
FirstWatch is a small company with a big commitment to those who depend on us. Our customers (EMS, fire, police, public health, and hospitals) provide the essential safety net for people throughout the US and Canada. These customer/partners literally have lives in their hands every day. Our team members enjoy our fast paced, innovative and fun culture that's laser focused on meeting the needs of our customers so they can take good care of their communities. If you're people-oriented, kind, able to learn new things quickly, and love being part of a small, hard-working, intensely cohesive team doing big things then we'd love to see if there's a place for you on our team.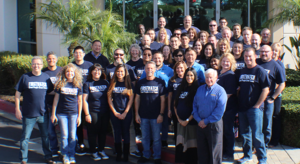 ---
Open Positions – Location Carlsbad, CA
Department: Customer Care 02/11/2021                                            Exemption Status: Non-exempt
Summary: 
If you're looking to collaborate with a wonderful team to assist the Public Safety world making communities safer using real-time data, we'd like to hear from you. The Customer Care Consultant is an individual who is motivated and articulate, with the ability to learn quickly and demonstrate proficiency with various software tools with a high level of technical expertise. This individual ensures that FirstWatch software solutions adheres to organizational values, enabling staff, customers, and partners to provide optimal customer service and patient care. The position is in Carlsbad, CA at FirstWatch headquarters.
This position will provide professional services and solutions to our customers; assist project teams with technical, clinical, and operations tasks in conjunction with the initiation and planning phases of our standard project deployments. These activities include the definition of requirements, benefits, strategy, research and development within the project life-cycle and technical/clinical analysis, design, and support of operations staff in executing, testing and rolling-out FirstWatch solutions.
The most qualified candidate for this role will also have experience providing excellent customer service with a background in public safety field or dispatch; FIRE, EMS or Law Enforcement. Applicants must fit our FirstWatch "Can do spirit" and be reliable, flexible, people-oriented, friendly, patient, fast learning, quick thinking, illustrates initiative and responsibility. This person will LOVE providing our customer/partners, both internal and externally, with great and honest customer service. If you are a person who can provide high-quality productivity within a fast-paced environment, this may be the right career change for you.
Responsibilities:
Explicit and organized documentation of meetings and customer interactions
Onboarding new clients as well as maintaining current.
Work closely with Sales, Project Management, and Integrations to implement Triggers
Strategize with clients to design and build custom Triggers; ensuring accuracy through testing, logic.
Set expectations; scope of projects and timelines.
Training clients from onboarding through lifetime with FirstWatch; Triggers, Admin Users, Dashboards and mobile devices
Follow-up with customers and internal department communications ensuring completion of all requests
Proactive reach outs to clients gaging temperature of satisfaction.
Rotating on-call duties; business and afterhours, respond after hour calls to FirstWatch system alerts and Customer calls
Troubleshoot system questions in FirstWatch, Windows X, Internet Browsers, iPhone and Android devices.
Datamining, using SQL to determine data locations for Trigger buildouts.
Handles support inquiries using NetSuite support ticketing system.
Route and/or answer questions to the correct product experts.
Perform other duties as assigned.
Education:  
Associates degree or minimum of 2 years equivalent working experience with an emphasis in public safety or related field.
Preferred Skills:
Public Safety and/or Public Software Experience (Dispatching, FIRE, EMS, Law Enforcement)
Ability to establish and maintain constructive working relationships with peers and cross-functional team members from a variety of business functions.
Customer focused and an active listener who consistently delivers on commitments within deadlines.
Team player and great collaborator, also self-motivated and able to work independently
Ability to prioritize work and complete assignments on time, maintain a positive attitude,
Strong oral and written communication skills
Strong personal and presentation skills; analytical, logical and methodical approach to problem solving
Ability to work within a data driven organization,
Ability to solve complex problems and issues in a pragmatic way.
Ability to function effectively in a fast paced and changing environment with multiple priorities and objectives
Technology:
NetSuite
MS SQL Studio (training will be provided)
MS Excel, MS Word, MS PowerPoint and MS Visio
MS Outlook
WebEx
License/Certifications (Current or Former):
Emergency Medical Technician
EMD Certified
EMT-P
Peace Officer trained
Firefighter trained
Physical Demands and Work Environment
The physical demands described here are representative of those that must be met by an employee to successfully perform the essential functions of this job. Reasonable accommodations may be made to enable individuals with disabilities to perform the essential functions.
While performing the duties of this job, the employee routinely is required to sit; walk; talk and hear; use hands to keyboard, finger, handle, and feel; stoop, kneel, crouch, twist, crawl, reach, and stretch.
The employee is occasionally required to move around the office.
Specific vision abilities required by this job include close vision, color vision, peripheral vision, depth perception, and ability to adjust focus.
May require travel dependent on company needs.
Travel required and may include overnight travel.
The employee may occasionally lift and/or move up to 35 lbs.
Can work under deadlines.
Position may require flexible scheduling, off-shifts, weekend, holiday, on-call and/or overtime hours of work in accordance with department policy or procedures.
EEO Statement
FirstWatch is an equal employment opportunity employer. All qualified applicants will receive consideration for employment without unlawful discrimination based on race, color, creed, national origin, sex, age, disability, marital status, sexual orientation or citizenship status.
This job description is not a comprehensive listing and is subject to change at any time and will include other tasks and duties as assigned.
Employee signature below constitutes employee's understanding of the requirements, essential functions and duties of the position.
_______________________________                           _______________________________
Signature/Print Name                                                   Date
Apply Now
To apply, send cover letter and resume to jobs@firstwatch.net.
Please, no recruiters or headhunters.
---