Join our 
Family
FirstWatch is a small company with a big commitment to those who depend on us. Our customers (EMS, fire, police, public health, and hospitals) provide the essential safety net for people throughout the US and Canada. These customer/partners literally have lives in their hands every day. Our team members enjoy our fast paced, innovative and fun culture that's laser focused on meeting the needs of our customers so they can take good care of their communities. If you're people-oriented, kind, able to learn new things quickly, and love being part of a small, hard-working, intensely cohesive team doing big things then we'd love to see if there's a place for you on our team.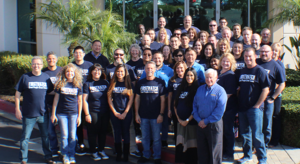 ---
Open Positions – Location Carlsbad, CA
SALARY RANGE
$75k to $95k
WEB DESIGNER (w/coding experience)
We are looking for a Web Designer (w/coding experience) to join FirstWatch by helping us take great care of our customers, improve our products, and grow our business. We need a top-notch experienced Web Designer who loves to help people, thrives in an environment that is rapidly changing, and is passionate about Public Safety and/or Public Health.
This is a technical role and the candidate must be highly collaborative, exhibit a good understanding of mission critical data, and deliver visual analytics (charts, graphs, data grids) to our enterprise customers to allow them to stay informed and make critical decisions 24/7.  Your goal is to gather and understand what the users want to see, how they want to interact with the portal, and transform that into technical requirements. Due to varying requirements and customizations, we need a person who is creative, flexible and always looking for fresh ideas. Must have at least 2 years of coding experience and about 3 to 5 years of Web Designing experience.
At FirstWatch, we partner with public safety and healthcare professionals to turn raw data into useful and actionable information, improving operational effectiveness and driving better outcomes.  When customers use FirstWatch, they view easy-to-read, customizable web pages, dashboards, charts, graphs, and maps designed to make it easy for them to interpret the data being collected by their 911 and public safety system. FirstWatch is a growing, family-oriented company based in Carlsbad, California; temporarily working remotely, while constructing a hybrid workplace. Started in 1999, our people, company culture, and wonderful customers are the keys to our success. We're all about doing the right thing for our customers, their patients, the citizens they serve—and each other.
If you're interested in collaborating with a creative, smart, caring, kind team; then send us your resume and be prepared to present prior design work.
DUTIES and RESPONSIBILITIES
Communicate with stakeholders, both internally and externally, to:
Gather requirements
"Ask the right questions" to understand stakeholder needs
Understand the purpose of the product and the users it serves
Present storyboards, make changes, and repeat in rapid iterations to arrive at a common agreement quickly
Identify modules/sections that can begin development
Communicate with engineers on the requirements and:
Participate in team meetings
Convey product roadmap (as this could affect backend design)
User expectations and the purpose the product serves
REQUIREMENTS
Experience with designing enterprise web portals and good understanding of:
User-level access and views
Contextual features
Localization and how it would affect design
Accessibility
Information privacy
Data security
Experienced in storyboarding and using tools such as Figma
Ability to thoroughly understand requirements and translate them visually onto storyboards
Ability to create wireframes from storyboards
A knack for consistency in flow, look-and-feel, and branding
Create sitemaps
Experience with:
Three or more years in a Web UI/UX Designer role
HTML5, CSS3
Scripting languages, libraries and frameworks
A good understanding of available software stacks for the best user experience
Widgets, such as those from D3.js, ChartJS, Telerik, etc.
Responsive UI implementation and cross-browser compatibility on both desktop and mobile devices
Mobile app designs
Understand phases in development cycle and good with effort estimation
Work in a highly collaborative environment
Professional written and interpersonal skills when communicating with stake holders, both internally and externally
Ability to mitigate design challenges (between features, performance, cost, and deadline)
EDUCATION
Bachelor's degree in Computer Science with UI/UX/web design classes or equivalent experience in web design with coding experience.
PHYSICAL DEMANDS and WORK ENVIRONMENT
The physical demands described here are representative of those that must be met by an employee to successfully perform the essential functions of this job. Reasonable accommodations may be made to enable individuals with disabilities to perform the essential functions.
While performing the duties of this job, the employee routinely is required to sit; walk; talk and hear; use hands to keyboard, finger, handle, and feel; stoop, kneel, crouch, twist, crawl, reach, and stretch.
The employee is occasionally required to move around the office.
Specific vision abilities required by this job include close vision, color vision, peripheral vision, depth perception, and ability to adjust focus.
May require travel dependent on company needs which may include overnight travel
The employee may occasionally lift and/or move up to 30 lbs.
Can work under deadlines.
Position may require flexible scheduling, off-shifts, weekend, holiday, on-call and/or overtime hours of work in accordance with department policy or procedures.
The noise level in the work environment is usually moderate to active.
EEO STATEMENT
FirstWatch is committed to diversity, equity, inclusion & equal employment opportunities for all employees and applicants. All employment is decided on the basis of qualifications, personal merit, experience, ability, job performance and business need.
FirstWatch prohibits discrimination and harassment of any type without regard to race, color, religion or belief, age, sex (including pregnancy), family or parental status, sexual orientation, gender identity and/or expression, national, social or ethnic origin, disability status, genetics, protected veteran status, marital, civil union or domestic partnership status or any other characteristic protected by federal, state or local laws.
This policy applies to all terms and conditions of employment, including recruiting, hiring, placement, promotion, termination, layoff, recall, transfer, leaves of absence, compensation and training.
ACKNOWLEDGEMENT
This job description is not a comprehensive listing. The above statements are intended to describe the general nature and level of work performed by the incumbent in this position. They are not intended to be an exhaustive list of all responsibilities, duties and skills and is subject to change at any time and will include other tasks and duties as assigned.
Employee signature below constitutes employee's understanding of the requirements, essential functions and duties of the position.
_______________________________                          _______________________________
Signature/Print Name                                                    Date
Apply Now
To apply, send cover letter and resume to jobs@firstwatch.net.
Please, no recruiters or headhunters.
---