Transforming Raw Data into Meaningful Information
FirstWatch turns raw data into meaningful information, helping agencies improve situational awareness, operational performance and clinical patient outcomes. Our system does this by securely capturing, translating and transmitting information about their 9-1-1 callers, patients and systems via FirstWatch

triggers

all in real-time.
Who We Serve
Law Enforcement
Automatically mine and map CAD, RMS and ProQA data for trends involving specified problem areas, or nature codes such as burglaries, robberies, SARs, gang activity, narcotics, sex crimes, etc.
Public Health
Warning of potential threats in progress including man-made events like an anthrax or chemical attack, or a naturally occurring event like MERS-CoV, flu epidemic or food poisoning.
---

Collect Data

Real-Time Analysis

Scan for Outliers
Mobile Apps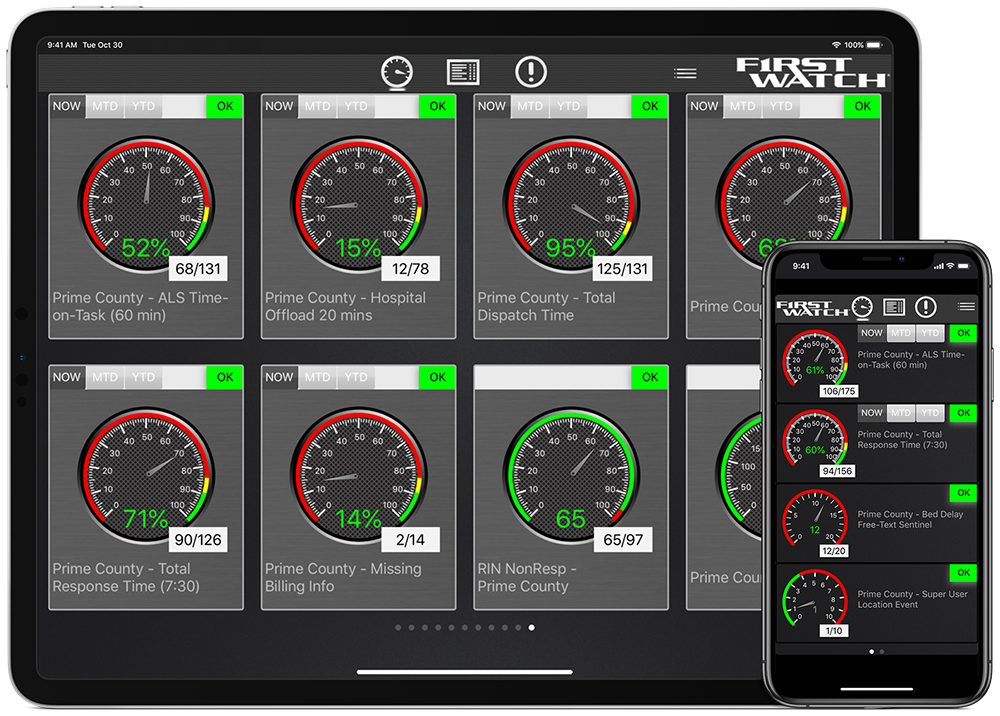 Near real-time data at your fingertips on your iOS and Android device.
learn more
FirstWatch Modules Include...
FirstWatch is constantly evolving in terms of how our clients use it to monitor and display data. In response to clients' requests, FirstWatch developed a variety of tools which allow more sophisticated integration of data, views and analysis. In addition to the core system, FirstWatch created add-on modules designed to provide specific, enhanced functionality for authorized users.
What is a FirstWatch Trigger?
A FirstWatch "trigger" is a representation of data based on a set of user-defined data filter criteria using one or more FirstWatch analytical methods. Triggers draw data from one or more data sources, like CAD, ProQA, RMS and ePCR. Typically, data is consumed as events; each event is uniquely identified and has a date time stamp. Each event can also be supplemented with additional information, such as location and comments. » Learn more about Triggers