Real-Time Connection: Oceanside PD Crime Data Mapping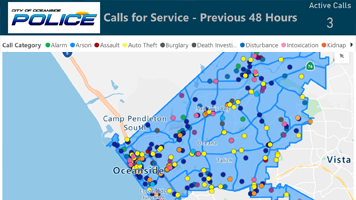 Collaborating with the community you serve is more important for law enforcement agencies than ever. During this open interactive session you'll learn how Oceanside Police Department has leveraged technology to enhance their ability to fight crime and improve their relationship with the people they serve.
Guest Experts: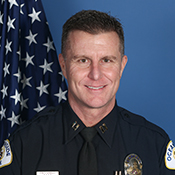 Chief Fred Armijo, Police Chief – Oceanside Police Department
Chief Fred Armijo was born and raised in Oceanside and graduated from Oceanside High School in 1989. He received a Bachelor of Science Degree in Workforce Education from Southern Illinois University in 2006 and a Master of Arts in Organizational Leadership from Brandman University in December, 2016.  He is a graduate of the FBI National Academy, Session 278, and serves on the Board of Directors for the Oceanside Promise. He was an Oceanside lifeguard before joining the Police Department in 1994.
Chief Armijo worked patrol, the Neighborhood Enhancement Team, the Primary Response Team, and was a detective and a department trainer prior to promoting to Sergeant in 2001. As a sergeant he served as a patrol team supervisor, a SWAT team leader, and the Professional Standards Unit supervisor prior to promoting to Lieutenant in 2007. As a lieutenant, Chief Armijo served as a Watch Commander, SWAT Commander, and worked in Administrative Services where he oversaw Training, Financial Services, Fleet and the Public Information Officer program. He promoted to captain in 2011 and has overseen the Administration and Field Operations Divisions (presently knows as Support Operations and Patrol, respectively). Chief Armijo was appointed as Oceanside's 19th Police Chief on March 11, 2021.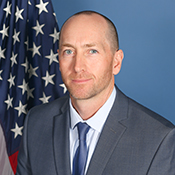 Steve Walter, Crime Analysis & Intelligence Supervisor – Oceanside Police Department
Steve Walter supervises the Oceanside Police Department's Crime Analysis & Intelligence Unit. Steve oversees day to day operations of this highly specialized unit and manages the department's intelligence-led policing strategy, working closely with neighboring law enforcement agencies. He also supervises the department's terrorism liaison officer program, is a former president of the San Diego Crime and Intelligence Analysis Association, and a former guest speaker for the International Association of Crime Analysts. He holds a BA in Communications from Lewis & Clark College in Portland, Oregon and a Master's degree in Contemporary British History from Queen Mary College, University of London.
The mission of OPD's Crime Analysis & Intelligence Unit is to identify crime series, patterns, and trends as they emerge. The CAIU also conducts research and analysis on long-term crime problems, working closely with officers to implement problem solving strategies. Ultimately, this unit is dedicated to helping the police department become more effective by providing officers with timely information and actionable intelligence.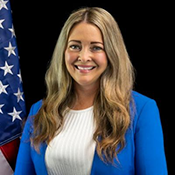 Jennifer A. Atenza, Public Information Officer, Social Media Manager, and Crisis Communications Officer – Oceanside Police Department
Facilitators: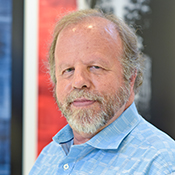 Mike Taigman, MA, FAEMS
Mike uses more than four decades of experience to help EMS leaders and field personnel improve the care and service they provide to patients and their communities. Mike is the improvement guide for FirstWatch and a nationally recognized author and speaker. He was the facilitator for the national EMS Agenda 2050 project and teaches improvement science in the Master's in Healthcare Administration and Interprofessional Leadership program at the University of California San Francisco. He will serve as host and facilitator for Conversations that Matter.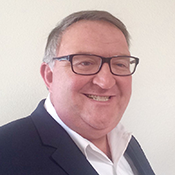 Rob Lawrence, MCMI
Rob has part-time roles as Director of Strategic Implementation for Pro EMS of Cambridge, Mass. and the Executive Director of the California Ambulance Association. Rob is also the Principal of Robert Lawrence Consulting. Rob served as the California COO with Paramedics Plus after nine years as the COO of the Richmond Ambulance Authority. Prior to that, he was the COO for Suffolk as part of the East of England Ambulance Service. He is a graduate of the UK's Royal Military Academy Sandhurst, serving for 23 years as a Medical Support Officer. Rob is the Communications Committee Chair of the American Ambulance Association, a member of the EMS World Advisory Board, and an accomplished writer, broadcaster and international speaker.