Are we on the right path to 2050?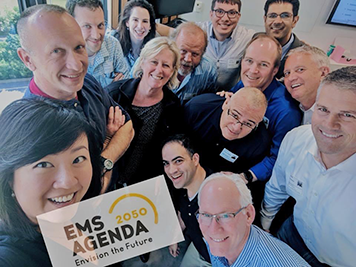 EMS Agenda 2050 was published in January 2019 as a 30-year vision for EMS in America. COVID has forced us to adapt, improvise, and overcome in ways that few if any of us anticipated. It's forced innovation and adaption. Join the members of the Technical Expert Committee, a few of our Federal colleagues, and the writing team from EMS Agenda 2050 for an open dialogue about the future of EMS viewed through the lens of a pandemic.
All of these folks joined our expert panel for this combined CTM and Agenda 2050 Virtual Reunion.
Marianne Gausche-Hill, MD, FACEP, FAAP, FAEMS, Medical Director, Los Angeles County EMS Agency
Andy Gienapp, MS, NRP, Director of Health Protection at Georgia Department of Public Health
Alexander Isakov, MD, MPH, FACEP, FAEMS, Executive Director of CEPAR at Emory University
Jeffery Jarvis, MD, MS, EMT-P, FACEP, FAEMS, Medical Director Williamson County EMS
Kyra Neeley King, Captain, Fire Department City of New York, M.Ed., EMT-P
William Leggio, EdD, NRP, Office of the Chief Medical Officer, Austin Travis County EMS
Kevin G Munjal, MD, MPH, MSCR, Icahn School of Medicine at Mount Sinai, NY
Ernesto Rodriguez, MA, EMT-P, Recently Retired Director of Austin-Travis County EMS
Keith Griffiths, The RedFlash Group
Michael Gerber, MPH, NRP, The RedFlash Group
Gamunu Wijetunge, MPM, NRP, National Highway Traffic Safety Administration
Jon Krohmer, MD, FACEP, National Highway Traffic Safety Administration
Mike Taigman, FirstWatch
Rob Lawrence, FirstWatch
Related Events