We, at FirstWatch, have an ongoing commitment to support awareness, promote compassion, encourage inclusion, and always be learning. Please take a look at our featured spotlights below.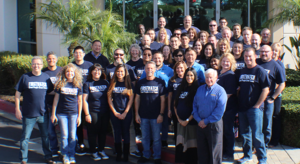 ---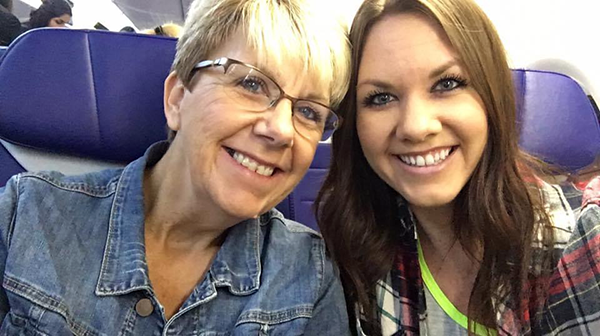 Debbie Gilligan is the Director of Product Development and Katelyn Gilligan is the Project Manager at FirstWatch.
To celebrate Women's History Month 2022 we invited two of our leaders to share their thoughts on this year's theme which is, "Providing Healing, Promoting Hope!"
Katelyn Gilligan: Our work supporting emergency response systems align perfectly with this year's vision. While we're not hands on caring for people experiencing emergencies directly, we provide care, direction and support for those that do provide healing. My mom, Debbie, has been an inspirational example of what innovative leadership looks like. Together we celebrate the women leaders we work with in EMS, Law Enforcement, the Fire Service, Dispatch, and Public health.
Debbie Gilligan: You've heard the phrase, "Children are our hope for the future." I get to see that hope manifest every day working with my daughter, Katelyn. Watching her evolve into a powerful and effective leader, making a difference every day, is one of the greatest joys in my life. Women have long advocated for compassion and new directions in leadership. In a world filled with conflict, war, and suffering we need strong female leaders now more than ever.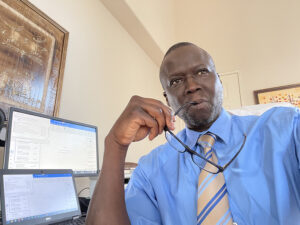 Bocar Sow Mbengue, Ph.D. is the Senior Data Scientist at FirstWatch
As we celebrate Black History Month featuring health and emergency services providers, it is an immense pleasure and enthusiasm that I embrace this one. Covid-19 is teaching us that we all belong to the same web, our faith intertwined. Never had I dreamed about being part of the best helper company in a unique yet instrumental role.
With the development of artificial intelligence (AI) and the proliferation of analytic tools, FirstWatch provides near real-time data and analytics tools to enable health care workers in the forefront to make critical decisions. It has been three years since I joined the company, surrounded by brilliant minds and entirely devoted to bringing the best practices in public health services. The project allowed me to fully immerse myself in emergency intervention. For many years, I wrestled with financial and academic data. As the director of accreditation and professor of statistics, assessment and evaluation of performance and building predictive models became a natural hobby for me.
As a Black African American, my origin is deeply rooted in Sénégal. I grew up in Goree Island where thousands of slaves left the coast of Africa for the Caribbean and Americas. Yet this island has become a multi-cultural and UNESCO heritage monument. Most American presidents have visited Goree Island; from Jimmy Carter's VP Mondale to Barack Obama including Bill Clinton and George W Bush. Goree remains the most visited port by Americans and Europeans. I fully scribe to President Obama's definition of Black History Month: it's about the lived, shared experiences of all African Americans, high, low, famous, and obscure, and how those experiences have shaped and challenged, and ultimately strengthened America. This is perhaps why I am passionate about working around equity issues.
I have studied Math at Sorbonne University in Paris and the NYU Courant Institute of Mathematical Science where I earned my Ph.D. I had a passion for numbers and sport. I obtained a Scholarship from the Senegalese government to study in Paris. In the thick of my road, I am amazed to be living in San Diego and almost a miracle today with the explosion of data science that I could soak my skill into a company with decades of experience in Public Safety.
As we are starting to scratch the surface, I am excited and convinced that we will carefully revolutionize intervention in public safety by providing products fueled with the best insights yet easy to understand. The gap in quality health care access will significantly dwindle if we integrate data in planning and resources allocation to better serve all communities. Numbers don't lie, they tell a true story. As I navigate into our rich yet diverse databases, I could not help to think about how brilliant it was to track variables such as dispatch time, incidents volume by location, hospital beds, patient initial condition, and outcomes to name a few. The fabric of emergency intervention can be unearthed when we start research at a global scope and invite our customers to play a significant role. For instance, changes in local call volume could have raised a flag at the beginning of the pandemic. Machine learning allows us today to classify and predict with some pretty good accuracy.
Therefore, I am excited to be part of a company I am sure will revolutionize how responders can make an immediate impact by getting and using the best tools in the market.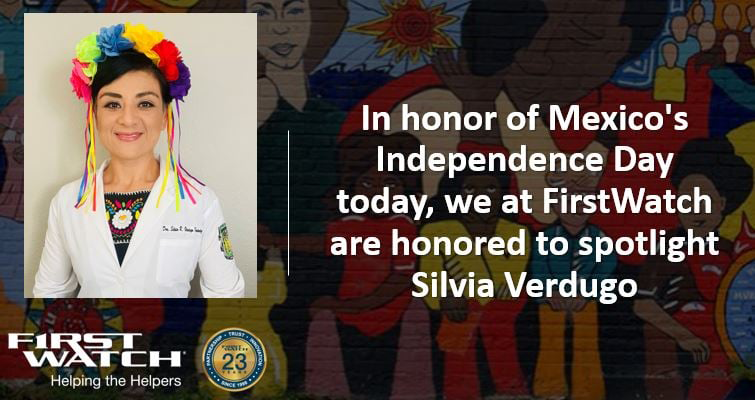 Silvia R. Verdugo, MD, MPH is the Medical Director for FirstWatch.
Born in Tijuana, Baja California, Mexico, officially registered as a city of Mexicali native and a city of San Bernardino, California resident at age 2, Silvia Rita Verdugo Fernandez grew up in a traditional Mexican household living in US territory. The later Mexican-American US citizen flourished in a clash of cultures, food, language, holidays, and education. As it usually occurs in bi-cultural individuals, Silvia was expected to be the best of Mexicans and the most devoted of US citizens. As a result, Silvia undertook her basic education within the US education system, while also receiving daily lectures at home from her mother a former elementary and middle school teacher. Language, geography, and history were learned in parallel from the American and from the Hispanic-Mexican point of view. While the at school and the concurrent home lessons were never fun, they did come in handy when Silvia left the States to pursue her medical career back on Mexican ground. Silvia obtained her EMT and Paramedic degree while simultaneously enrolled in Medical School. Her EMS fieldwork and experience would later provide Silvia with a huge advantage against her fellow medical residents and would grant her various accolades.
Upon graduating, Silvia immediately took a job offer and worked as an Emergency Medical Physician. In her pursuit of further education, Silvia then enrolled in a Master's in Public Health program in her alma mater. While enrolling in the MPH program and answering a simple question of "How well do you understand English", Silvia's resume was forwarded to the then, UCSD Global Health Studies department, and after an interview was offered an undergraduate fellowship with the university. Silvia was awarded another 3 postdoctoral fellowships with UCSD and after that accepted a research position where she continued her research with marginalized and vulnerable populations in the cities of Tijuana and San Diego.
During one of those research projects in San Diego, she met the FirstWatch team and the rest is history.