Orange County Fire Authority: Leading with Data
Crawford Coates
Transparency is good. But data without context can mislead. How OCFA leverages data to tell a more complete story.
"A critical component of our work is accurately identifying and describing the problems we face as a fire department and as a community," says Orange County Fire Authority Chief Brian Fennessy. "Once we've identified a problem, then we can address it."
The bigger and more complex those challenges, the more important it is to convey them accurately. For Fennessy and OCFA, this begins with looking at the data.
"Talking about the importance of data is one thing," he says. "But actually understanding the utility, and its impact on community safety – how it affects people's lives – this is when the light goes on and people get it. It becomes real."
Learning from Experience
In the popular imagination, Orange County may be better known for its beaches, mansions, and millionaires. The reality is more complex. OCFA covers a vast response area – 587 square miles, including nearly 200,000 acres of wildland. Responsible for a population of nearly 2 million, the agency provides regional coverage for all fire, medical, rescue, and hazmat emergencies over a network of 78 fire stations. In addition to residential, there are urban, industrial, suburban, and rural areas, as well as farms, homeless encampments, an airport, and mutual-aid agreements to cover.
Since 2018, much of that responsibility has fallen to Chief Fennessy, who was recently recognized as the 2023 International Association of Fire Chiefs' Chief of the Year.  He came to his OCFA  role with a wealth of experience earned at the U.S. Forest Service and San Diego Fire-Rescue.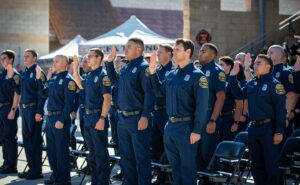 "One of the things we were able to do in San Diego was look at response times," he explains. "When you have a station that's running a little slower, it opens up a conversation. Why is that happening? This isn't about pinning blame. There are lots of good reasons we found for why this might happen – some stations get more calls at night or have really poor roads. It can be affected by station design.
"As long as the data is good, I have found firefighters are supportive of it. Like anyone, they want to know how they're doing, and we firefighters are naturally competitive. We want to excel, improve, and innovate best practices for each other and agencies around the country.
The same holds true for the community, says Fennessy. "Once the people we serve understand the importance of time and resources in calls like cardiac arrest or fire, then the data helps them understand the story and potentially better support our work."
Data Transparency, Coupled with Experience
While many in government are supportive of transparency in theory, it's another thing put into practice. There might be fear that data can be misinterpreted by the public or non-governmental entities. To provide context, OFCA marries data with operational and clinical experience to paint a fuller picture.
"I sometimes hear about fire departments that are afraid of transparency. Because transparency can mean needing to add a new station or a new unit, and these are big costs. But ignoring problems doesn't make them go away," says Fennessy. "And sometimes it might go the other way: an elected official wants a station in their neighborhood because they're remote. But with the data, we can look at what's really going on. What are the response times? What are the outcomes? Does the ask warrant action? Either way, ignoring data doesn't serve anyone while leveraging the data with transparency serves everyone."
All data is open to interpretation. Over time, circumstances shift. So while it's critical that OCFA bring context and clinical and operational expertise, it also requires an open mind.
"With data, you need to be curious. Sometimes you might think you've identified a problem. But it's not really a problem until you've asked the right questions. And just asking those questions can have a big impact, both in understanding what's happening and in communicating your agency's values."
Conclusion
The resources at OCFA's disposal are a reflection of the community's values, as well as its unique risks. Again, these are constantly changing. This is memorialized in the agency's Mission Statement: "We proudly serve the changing needs of our communities by providing exceptional emergency and support services."
"I'm surrounded by good people who understand this," says Fennessy about OCFA.
"People often say the modern fire service is complex," he says. "But firefighting isn't. It's about our people and the ambulances, trucks, aircraft, and engines they operate. Everything else is support, from the chief's office and  fire prevention to human resources and IT."
Harnessing data to facilitate that critical and time-sensitive work is what OCFA does. Though the work goes on largely as it has, the community and risks evolve with the times. Data helps paint a richer, more fluid and dynamic picture for OCFA, empowering the agency to live up to its mission of adapting to a constantly turning world.