U.S. Measles Cases number over 1000 in 2019
Jenny Abercrombie
According to the CDC, another measles milestone has been reached and, as of 6/6/19, there were 1,022 confirmed cases of measles in 28 of the 50 states.  This is the largest number of cases tallied in the past 27 years (1992), and that was 8 years BEFORE measles was considered eradicated from the U.S (2002).  Refer to the CDC Map and Chart located on the 2nd page of this document.
There are currently ongoing outbreaks (3 or more cases in a specified area) as follows:
2 outbreaks in New York state:  New York City and Rockland County
3 outbreaks in California:  Northern California, LA-Region, and Sacramento-Region
1 outbreak in Pennsylvania: (specific region not identified)
1 outbreak in Washington state:  King, Pierce, and Snohomish Counties
The following states have reported cases to CDC:
Arizona, California, Colorado, Connecticut, Florida, Georgia, Idaho, Illinois, Indiana, Iowa, Kentucky, Maine, Maryland, Massachusetts, Michigan, Missouri, New Mexico, Nevada, New Hampshire, New Jersey, New York, Oklahoma, Oregon, Pennsylvania, Texas, Tennessee, Virginia, & Washington.
Note:  bold indicates an outbreak(s) state; non-bold represents states with individual cases or previous outbreak(s) that are now controlled.
Although these cases were initially imported to the United States from other countries via our residents traveling abroad and returning infected or non-U.S. residents traveling to the U.S. with the infection and spreading it among those who are not vaccinated at all or not adequately vaccinated.  Now, however, there is also ongoing measles transmission in areas of the U.S. where there are pockets of people that are unvaccinated or under-vaccinated.  It should be noted that there is a difference between those that are not medically eligible for vaccination (too young or otherwise not able to be vaccinated, due to allergy or some type of immunocompromise) and those that have philosophical reasons not to vaccinate. Some states, counties or outbreak areas have prevented all but validated medical exemptions from being honored, although approaches have differed in their application.
For further information on Measles Cases & Outbreaks, please see the CDC site:  https://www.cdc.gov/measles/cases-outbreaks.html
For more information on Measles from the CDC see the CDC site:  https://www.cdc.gov/measles/index.html
See the articles posted on this page under the category of Outbreaks/Emerging Diseases and named Measles (Rubeola) 2/20/19 & 5/31/19 for more specifics on the disease, implications and recommendations for First Responders.
2019 Measles Cases Distributed by State as of June 6, 2019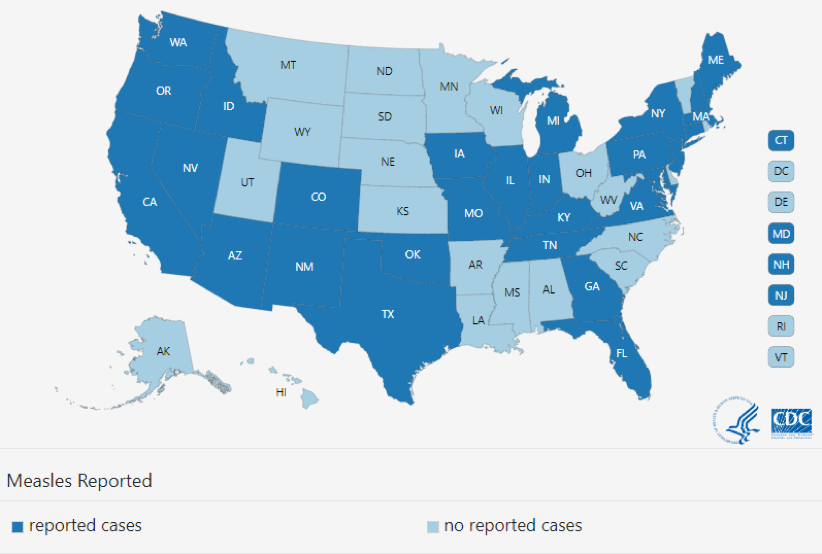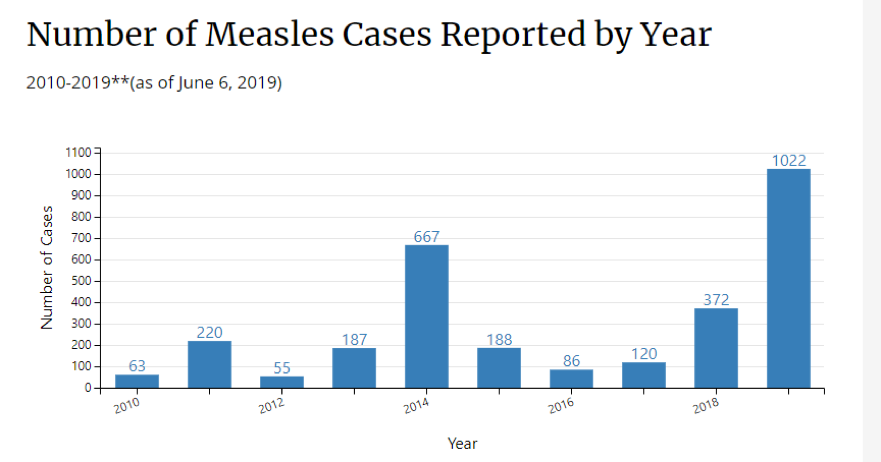 Citation:  Both the Map and the Chart were copied from the CDC Website:  Measles Cases and Outbreaks @ https://www.cdc.gov/measles/cases-outbreaks.html;
Page last reviewed:  June 10, 2019; Accessed 6-11-19
Content source: National Center for Immunization and Respiratory Diseases, Division of Viral Diseases
Download the pdf to this update